2530 Lombard Avenue
Everett, WA 98201
Tel (425) 252-4103
On his Recommendation, Dec 12, 1997,
Dr. Robert M. Le Roy said, Vincent Pham [Pham Van Ban] has been individually responsible for developing and implements a multi-cultural and multi-lingual disaster education program. His work is resulting in a published text on disaster preparedness that will be used not only in this community but also throughout Vietnam. He has provided his personal management and service leadership experience for the Red Cross and the Vietnamese community. His highly successful experience in the initiation and development of Red Cross programs has honed his skills as a top level citizen. His extensive and multiple areas of community involvement and interaction make him a front runner in contributing to the development of any program in which he is active. Vincent enjoys challenge and has the tenacity to work and solve unexpected problems. Further, he motivates others to develop their own capacity building skills as they contribute to the overall effort of a program.
As a self-starter and professional, Vincent Pham has earned the opportunity to use his talent and display his commitment to improving the quality of life for all through your program.
As the Executive Director of this Red Cross Chapter, I have been integrally involved in community disaster preparedness. Vincent and I have worked on the goals and direction of his Vietnamese community preparedness program.
His Biography
Born Pham Van Ban on February 1, 1949, in Hai Hung, Vietnam, this man's life has taken him from studies in law as a young man through a military career amidst a war and again into the realm of advanced studies.
After graduating from the University of Vietnam Law School in 1970, he started a military career. In 1970, he began as an Air Force Cadet and was sent to the United States for his flying training. In July 1974, he served as a fighter pilot in the 4th Air Force Division, Republic of Vietnam Air Force (VNAF).
After being downed in combat and captured, First Lieutenant Ban was sent to prison in Kien Giang on May 2, 1975. He suffered many hardships during seven years in prison camps in Vietnam. On May 2, 1982, exactly seven years after the day of his capture, he escaped from Vietnam. He repatriated himself and his family and fled by boat to a refugee camp in Thailand. During their escape from Vietnam, his twelve year old son was caught and imprisoned.
Between 1982 and 1984, he worked with the United Nations' Save The Children Foundation in Indonesia. On August 10, 1984, Pham Van Ban and his family came to the United States and settled in Everett, Washington. Pham changed his name to Vincent Pham when he became a United States citizen in 1993 and worked to earmark money for his American education.
In the summer 1994, Vincent Pham entered Everett Community College and received an Associate of Sciences Degree in Political Science. Today, he is enrolled in the Human Services Program designed to lead to a Baccalaureate and Master degrees at Western Washington University, and at University of Phoenix. He has been accepted for the fall Doctoral of Education program at University of Washington.
Vincent's continues his studies as he volunteers with the Red Cross. His volunteer efforts are centered on disaster preparedness for the Vietnamese community in Snohomish County. He has translated into Vietnamese and presented Red Cross materials to more than 100 fellow citizens.
His ties to his native country are ever present. He has recently completed a bi-lingual book on Hurricane Linda which brings preparedness and planning to the readers. On a personal note, Vincent's struggles to maintain and reunite his family ongoing. This year Vincent hopes to bring his son, lost to the Communists in 1982, now married and living in Vietnam, to America. Vincent Pham's constant efforts will result in a family reunion this summer.
Made Special For You
By Tracy
Minority International Research Training
School of Public Health & Community Medicine
Univerity of Washington, P. O. Box 357236, Seattle, WA 98195
Tel. (206) 543-7559
Vincent:
I am constantly in awe of your stories and accomplishments. I find you fascinating and brilliant. I hope your future is everything you deserve. May you find peace with your family complete. Good luck with life.

All my best,
Tracy Lasher
Far away there in the sunshine are my highest aspirations.
I may not reach them but I can look up and see their beauty, believe in them and try to follow them.
Louisa May Alcott
Independence Day a meaningful celebration
for nation's newest citizens
By Cynthia Nunley
How many times can a Senator be reelected?
Which President was the first Commander in Chief of the United States military?
These questions are among 100 studied by the thousands of immigrants and refugees seeking United States citizenship yearly.
As more than 500 new U.S. citizens spoke words of allegiance to the nation at a ceremony at the Seattle Center Flag Pavilion on July 4, Everett officials welcomed about 60 new U.S. citizens at Jackson Plaza at Naval Station Everett.
"Recognizing America's foreign-born citizens is a perfect way to celebrate this holiday," said Naval Station Everett Commanding Officer Kim Buike. "For those who originally fought for American independence were not born here."
Being an American citizen brings opportunity, Buike said.
One new citizen, Vietnam-born Vincent Pham, agrees.
Pham said he was thankful for the chance to have a successful, productive life in this country after leaving his homeland empty-handed.
"I came to America with nothing. My family came with nothing," he said. "But we had our hands."
Pham and others seeking citizenship must work hard to overcome many obstacles in their quest to become citizens.
They must wait five years after receiving their green card before applying to the Immigration and Naturalization Services for citizenship. Each application must be accompanied by a $250 fee and Snohomish County applicants must travel to Seattle twice -- once for fingerprinting and again for interviews and testing, all done in English, a language unknown to most.
"It's a great expense for most people who have families," said Rita Meehan, assistant director of the Refugee and Immigrant Forum. "It's a huge challenge, and it may take 10 to 15 years of studying to be able to answer the questions, to walk into the interview and overcome the fear."
Pham, who will complete his Master's degree in Education from Western Washington University this summer and begin the Doctoral program at the University of Washington in the fall, did not apply for citizenship until 1999.
He said he work hard and sacrificed much to reach his goals and live successfully in America.
After arriving in the United States in 1970, Pham completed training as a fighter pilot in the U.S. Air Force and was sent to Vietnam, where he was shot down in 1974 and imprisoned for seven years before escaping.
After his escape, Pham and his family set sail for Thailand and return to the United States in 1984, where he worked at the Red Cross of Snohomish County after spending some time in Indonesia with the United Nations Save the Children campaign.
Pham has dedicated his life in the United States to helping people like himself find success by being involved with the Vietnamese community in Everett.
"When I came to the United States, people asked me, "Can I help you?" he said. "It's very special. 'Can I help you?' means 'I care.' Now I can be a volunteer. I can be 'Can I help you?'"
Pham also continues to help Vietnam.
After typhoon Linda, a relatively weak storm packing about 75 mile per hour winds struck Vietnam in November 1997, devastating low-lying areas south of the Mekong River and destroying 80,000 homes and damaging another 140,000, Pham wanted to help.
One week after the typhoon, more than 400 people were confirmed dead, and 3,200 fishermen were missing, one year after the storm, the Vietnamese had a manual, written by Vincent Pham, with detailed instructions for preparing for a typhoon and living through the aftermath.
Pham says he knows first-hand the responsibility and the benefits that come with citizenship.
So questions such as "What are the colors of the American flag?" and "Who was the first American president?" require answers from those hoping to be welcomed as citizens, but Pham knows well that becoming an American citizen means more than lessons pulled from history books.
It means opportunity, he said.
Everett Tribune, July 12th, 2000
Recommendation
By Morgan Livingston
Vincent Pham is very intelligent, very informed human being. His actual grades may not reflect his achievements and abilities as he has been developing his skills in verbal and written English while he has been getting his degree. He eagerly pursues projects, works well with students of all ages, classes, ethnicities and gender. He is gracious and thoughtful at all times.
Vincent does excellent class presentations; he has very sophisticated knowledge of his culture of origin in Viet Nam and shares it in ways that deepen classmates' knowledge of their own cultures. Vincent has the inner strength to tackle almost anything, and to persevere and to motivate others in the process. I think Vincent Pham would be a great addition to your program.
As Director of Western Washington University's Human Service Major at the Everett Education Center, I have known Vincent for two years, during his work in his junior and senior year for his Bachelor of Arts degree. I have personally had him in three of my classes to date: Cultural Awareness, Organizational Systems, and Community Systems.
I highly recommend the applicant.
Morgan Livingston, Director of Western Washington University's Human Service Major at the Everett Education Center. Tel (425) 339-3810
Recommendation
By Linda Gojenola
I believe that Vincent Pham is an excellent candidate for your research program.
Vincent has been in the Internship senior that I teach. I have visited with his supervisor at the American Red Cross. He praised for being a responsible person and hard worker.
He demonstrated his commitment to the people of Vietnam by writing a book about disaster preparedness. He researched and wrote the book while having numerous other responsibilities. He is a high energy person!
I highly recommend the applicant.
Linda Gojenola, Instructor, Western Washington University, Everett Education Center. Tel (425) 339-3810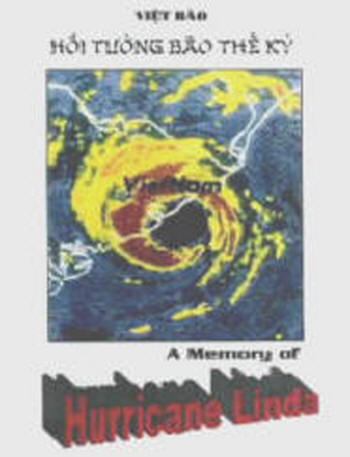 Letter of Introduction
By Judith A. Deiro
Judith A. Deiro, CCDCIII, Ph.D., Professor of Human Services Department, Woodring College of Education at Western Washington University, Dr. Deiro also is author of Teaching With Heart (Corwin Press, 1996)
I have just finished reading the book by Vincent Pham, "A Memory Of Hurricane Linda." This book provides the reader with an understanding of hurricanes and guidance about how to deal with them. As I read the book I could not help but think about the deeply felt care and concern Mr. Pham has for his people here in the United States. I am grateful Mr. Pham has put into writing some of the knowledge he has gained through his internship at the American Red Cross sponsored by the Human Services Department, Western Washington University. I want to thank Mr. Pham for taking so much of his personal time to write this book in two different languages, helping many people better understand hurricanes and their impact.
A Memory of Hurricane Linda provides us with an understanding of the origins and power of hurricanes, the ecological systems they impact, and the devastation and personal strike a country. Hurricane Linda gives us a vivid illustration of the full impact of a hurricane on a nation of people who are unprepared for such a disaster. Mr. Pham's careful description of a destructive of a single hurricane can be. His description of the devastation to families -- to their housing, their farm lands and fishing villages -- and the number of deaths that resulted clearly highlights the importance of being prepared for such a disaster. Such emotional pain can be avoided.
We, in the United States, are lucky to have such a service as the Red Cross to help us prepare for disasters. Sometimes we may take such a service for granted, believing everyone anywhere in the world has such an agency to help them prevent and prepare for disasters. A Memory of Hurricane Linda helps remind us of how fortunate we are in the United States, and also how necessary it is for us to provide these services in many languages for our citizens. A Memory of Hurricane Linda is a very valuable resource for the Viet Namese speaking people living in this country, and possibly for the Viet Namese living in their native country as well.